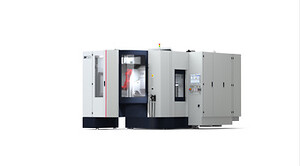 SW's BA 322i with two milling spindles is a high-efficiency and high-performance machining center which with its two milling spindles guarantees maximum output. The 3 of the axes run in a box in box construction and ensure the highest stability, even with heavy machining.
This combined with an integrated 6 axis 7 Kg. robot with a magazine for raw and finished items gives a high output per. m². The machine handles parts in the size max. 300 x 450 x 375 mm. and has as standard 10,000 rpm spindel and 2 x 20 tool magasin. Both parts can be expanded as needed. The speed of 65/75 m / sec. gives an tool change with chip to chip time of 2.5 Sec. The machine, which is extremely powerful with a direct measuring system as standard, provides not only a very high precision but also a very dynamic machining.
The part magazine is an integratet part of the machine. The system has up to 24 trays 600 x 400 mm for parts that are loaded and unloaded at ergonomic height from the side. The whole cell is delivered as a Plug & Play solution and is therefore quickly connected to production.
Mit freundlichen Grüße / Med venlig hilsen /Best regards
Jan Jensen
Sales Manager Scandinavian
Mobil.: +45 23230233
SW central Tel.: +49 740274-0
Jan.Jensen@sw-machines.com
www.sw-machines.de