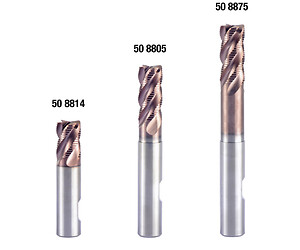 We now offer a modern version of the rougher - a cutter with variable inserts, vibration-free and which is much more easy-cutting. It has more positive cutting angles which allow much larger chip flow.
The rougher has optimized geometry for stainless and long-chip material up to 1000N / mm2, and is suitable for all other materials up to 1600N / mm2.
It is specially polished in groove, has weldon on the shaft and is coated with Orkan Super Plus for better durability.
We stock the rougher from Ø2 to Ø20 mm, and it is available in three lengths:
Find dimensions for 50 8814 (stump) - here
Find dimensions for 50 8805 - here
Find dimensions for 50 8875 (long) - here
You can also find cutting data for the three roughers here - 50 8814, 50 8805 and 50 8875.
If you have further questions about our tools, you are always welcome to contact us on tel. +45 70 22 42 00 or mail@risager.eu.
We are always ready to advise and help you solve your tasks!